Along this 14 years TICBALI has grown to a fully fledged company, offering very competitive rates on all aspects of travel and all you need in Bali. Putu is still very hands on in the company and has office located in Legian Kuta Badung Bali, his team work is extremely knowledgeable in all aspects of travel in Bali and the surrounding islands. TICBALI well-known as Bali's most recommended agency with negotiable and reasonable price for accommodation, holiday activities and anything you need in Bali.
TICBALI has been a loyal and trusted service in Bali since 2007 (
it was specializing in holiday booking services
), since covid-19 hit in march 2020, TICBALI has added some new services under the TICBALI banner including​ : ​
1.
TICBALI Online Shop
TICBALI ONLINE SHOP provides many Bali items that are well missed by you and also supports local artisans and suppliers who have been greatly affected by the ongoing pandemic with very affordable worldwide shipping rate to your door.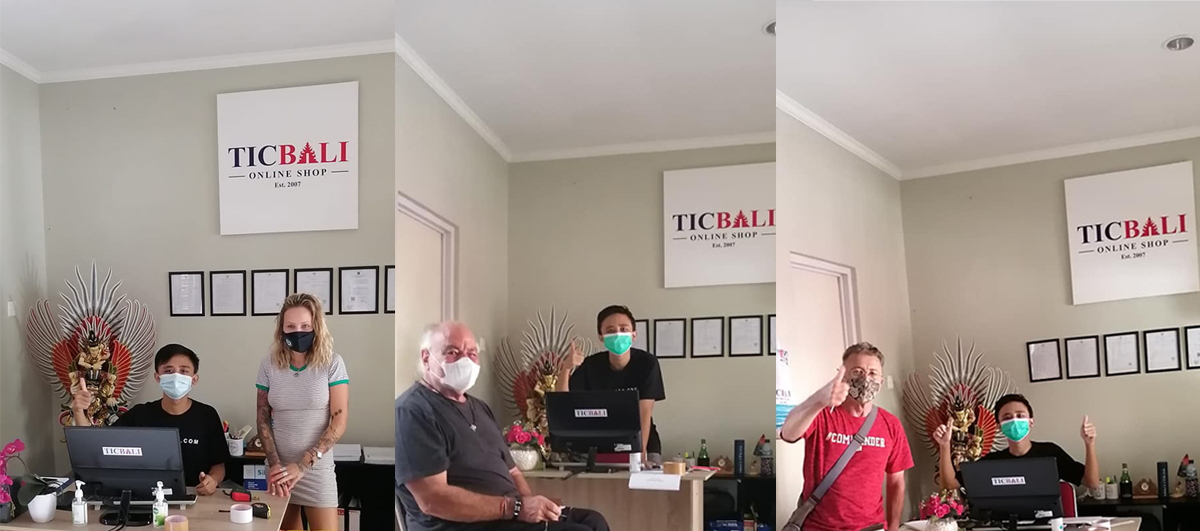 We are not only supporting local suppliers and local artists but we support each other too with other local exporter and expatriate exporter in Bali regarding items, designs and shipments. Pandemic teach us that we are strong if we help each other.
2.
TICBALI Care Packages
TICBALI CARE PACKAGES are available also to provide supports for the needy elderly the most vulnerable one and also to support your nominated friends in Bali. 
​Thank you for supporting us in Bali at this uncertain situation. Our website orders mean a lot to us, with your support you can help keep Bali thriving through suppliers, staff and their families. Thank you for always trust our services since 14 years ago.
TICBALI / PT TIC 

LICENSE : AHU-0032551.AH.01.11.TAHUN 2019
Office : Jl Werkudara 526 Legian Kuta Badung Bali
HOTLINE : +6281338573821
​PHONE : +6281 138 04078
Email : booking@ticbali.com