Our Head office located at Denpasar where all our staff working hard to make sure all your online booking run well and if you are near Legian you can visit our branch office at Jalan Werkudara Legian to discuss face to face or make a booking for anything you need in Bali.
1. TICBALI HOLIDAYS (Est. July 2007)
Since 4 July 2007 TICBALI has offered various trusted services for travelers visiting Bali, such as :
Unfortunately due to pandemics, all those services have been temporarily halted. We at TICBALI never gave up and since April 2020 TICBALI with all its loyal customers together has supported people in Bali who are affected by the Pandemic through the
Bali Care Packages
we offered. Also Purchases through
TICBALI Online shop
with
Worldwide shipment
also has supported Balinese sellers and suppliers to survive during this pandemic time. And now finally, there is light at the end of the tunnel, since the second International Flight has arrived in Bali in February 2022, We, TICBALI now restarts all the Holiday Services including VIP Airport Services to make travelers' arrival to run smoothly. We will also continue our Online Shop, Worldwide shipment and Care Package, because this is still needed during Bali's recovery time which probably will take the next 1 or 2 years until the Bali Tourism is back to normal.
2. TICBALI Online Shop 
with competitive rate on worldwide shipment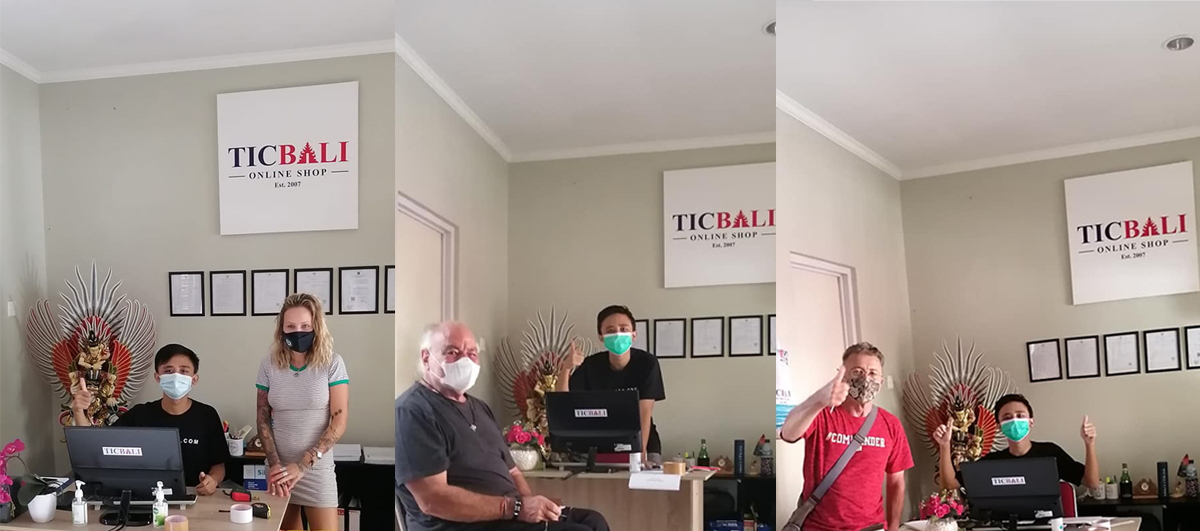 TICBALI ONLINE SHOP provides many Bali items that are well missed by you and also supports local artisans and suppliers who have been greatly affected by the ongoing pandemic with very affordable worldwide shipping rate to your door.
We are not only supporting local suppliers and local artists but we support each other too with other local exporter and expatriate exporter in Bali regarding items, designs and shipments. Pandemic teach us that we are strong if we help each other.
Our website orders mean a lot to us, with your support you can help keep Bali thriving through suppliers, staff and their families. Thank you for always trust our services since 16 years ago.
Since it's 12th Anniversary on 4 July 2019, TICBALI introduce it's new LOGO!

our old logo